Sri Lankan luxury experience
Claughton House has been fine-tuned since opening to offer a complete and immersive experience. We have put together a range of experiences and cultural highlights you can enjoy from the comfort of the house, although there are some wonderful historical sights and fun things to see nearby. For experiences outside the villa please visit our excursions page
On Arrival: Chef Ajith will be there to welcome you and will serve a fresh juice and cool towel which will help release the journey from your shoulders as you begin to take in your surroundings. He will introduce you to the team and guide you through the layout of the house. If you have requested a meal this will be served onto the main dining table. Your cases will be delivered to your rooms and the staff will hover nearby as they seek to understand what you need and would like. Once you are settled you can sit down with Ajith and discuss a meal plan for the rest of your stay.
Food
Meals are designed to suit your palate and served at a time and location within the property of your choosing. Ajith is an excellent chef with both Sri Lankan and western food and his passion is very evident. Next to the pool is a BBQ – think seafood – which always proves popular. As well as enjoying the cooked food our guests also enjoy accompanying Ajith to the markets. Food in Sri Lanka is fresh and we are lucky that in Dikwella supermarkets have not yet arrived, so do go with him and not only enjoy touching and smelling your food seeing whether it comes from but also witness a side of real Sri Lankan living.
Cooking class
Sri Lankan cuisine is one of the most intricate, healthy and delicious culinary experiences in Asia and the skill to make a curry is an easy and unforgettable experience to take home with you. When discussing your meal plan with Ajith we do encourage at least one meal is a 'rice and curry' lesson.
Health & Wellbeing
We have built a dedicated yoga shala in a stunning setting at the top of the elevation with ocean views that we encourage you to use for your own practice as often as you wish. Alternatively we can arrange for a teacher to visit if you'd prefer. Yoga mats are available. There is also a dedicated massage room with attached bathroom and a masseur/se will come to the house.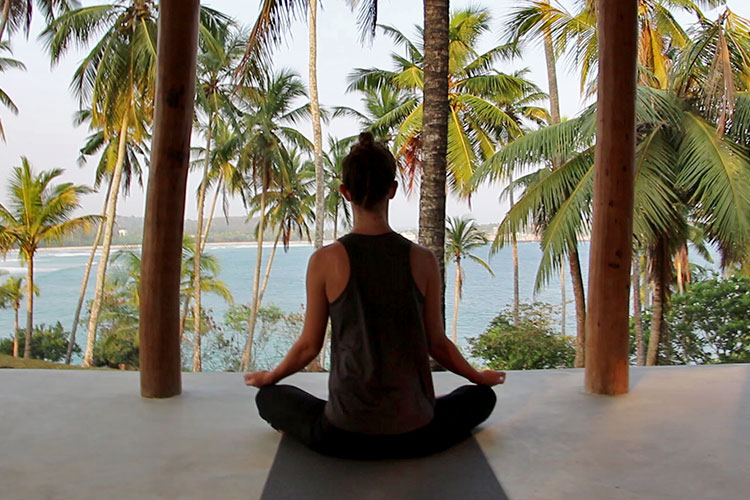 Buddhist Blessing
Located under a large Banyan Tree is a shrine to Lord Buddha and it's here that early on during your stay we'll encourage you to participate in a blessing led by Monks from the local temple. The blessing invokes the 'light of the triple gem' and is bestowed upon you, all those you know and love, the house and staff, and the village and is a highly regarded practice.  We'll advise you of the etiquette when in the presence of Monks and whether you are a Buddhist or not, a blessing bestowed upon by these kind and gentle followers of the Buddhist philosophy is an enlightening and wonderful experience. The sound of their chanting whilst under the shade of the might Banyan is truly a magical insight into this ancient philosophy.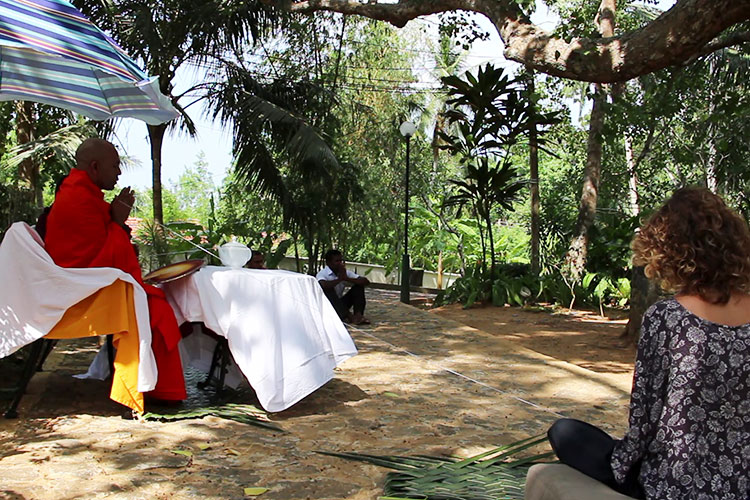 Kandian Dancers
Legend has it that the first dance performance from the hill capital, Kandy, cured the then King of a mysterious illness and it's popularity spread across the island.  It gained Buddhist significance when the dancers were assigned to the Temple of the Tooth and play the major role in the annual procession.  A local dance troupe performs at Claughton House and over 20 mins will lead you on a journey of emotions that will bring amazement, laughter and awe. Expect back flips, drumming, dancing and fire and it's a great way to start a celebration evening.
Beaches & Surfing
The wide bay and white sands of Kudawella Beach is ideal for romantic strolls, early morning runs (firm sand makes this particularly good) and fantastic seasonal surfing. A short tuk tuk ride away is the horse show bay of Hiriketya that throughout the year has waves rolling in and where instructors and board hire can be arranged.